2023 Finalists
Large Media Category (more than 50 full-time employees)
The five finalists in the large media category (more than 50 full-time employees) and the stories and/or series shortlisted for the award are: 
Small media category (fewer than 50 full-time employees) 
About the CJF Jackman Award for Excellence in Journalism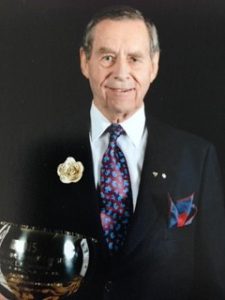 The CJF Jackman Award for Excellence in Journalism honours a Canadian organization that embodies exemplary journalism with a resulting impact on the community it serves.
On the 25th anniversary of the CJF in 2015, the Excellence in Journalism Award was named after Eric Jackman, the founder of the CJF, a business leader and award-winning clinical psychologist. Jackman—along with the founding directors—developed the criteria for this award, which reflects his passion and deep commitment to the CJF's mission, and recognizes his vision, guidance and continued contribution to strengthening journalism.
Since 1996, the CJF has celebrated news organizations that embrace ideals of journalistic excellence – accuracy, independence, accountability, courage and originality – with this annual award.
Winners, since 2007, are selected in two categories: large media and small media. Applicants can enter either category, determined by the size of staff for reporting, production, technical and presentation support and the staff they can draw upon within any larger organization of which they are a part:
– large media organization (more than 50 full-time employees)- small media organization (50 full-time employees or less)
Entrants must indicate which of these two categories they represent. There is a $200 application fee for large media organizations and a $100 application fee for small media organizations.
Submission Requirements
– Entries will be judged on a specific story or series of stories produced by each organization during the 2021 calendar year.
– Only material published or broadcast in 2021 may be submitted.
– Only one entry will be accepted from a single Canadian print media outlet, broadcast program or online news organization.
– Entries may have up to THREE individual items on a common theme. Can include: articles, editorials, blogs, photographs, cartoons, videos, radio broadcasts, interactive graphics, multimedia projects.
In addition to a short summary of the proposal, the following questions should be addressed (with the weight each represents):
– Detail the resources in time and numbers dedicated to the work submitted, compared to the overall resources of the news organization. Describe the extent of work that went into the production of the story or series. (30%)
– Explain why your news organization selected this topic. (10%)
– Describe with supporting evidence the distinctiveness of the story (e.g. impact of the story/stories, specific communities affected, exceptional resourcefulness demonstrated by an individual reporter or reporters in a breaking news event, innovative technologies used to deliver the story).  (30%)
– From this list of standards for excellence in journalism, select up to three that are most applicable to your submission and explain why you selected each of them: Originality, Courage, Independence, Accuracy, Social Responsibility, Accountability, Diversity. (30%)
In evaluating each entry, the jury will consider:
– Quality of Writing/Storytelling
– Clarity of Work Submitted- Stated Impact on Community
Judging Methodology
The judging panel is comprised of four to eight jurors (with bilingual representatives), who review all submitted entries through an online portal, rank the entries and then attend a face-to-face meeting or participate via conference call with their rankings to agree upon the finalists and recipient of the award. The finalists will be announced in April and May. Only shortlisted candidates will be contacted. The recipient is announced at the CJF Awards virtual ceremony in June 2022.
The finalists will be announced in April or May. The recipient is determined by a jury.
Please contact CJF president and executive director Natalie Turvey should you have any questions.